Log siding makes any home look like a log home. We make our log siding of red cedar, matching the profile of our full logs to retain the authentic log home style. Log corner trim pieces can be added to make the exterior of a log sided home indistinguishable from a full log home. Log siding can be installed on a new home, or to replace siding an existing home. We can install log siding on homes within an hour drive of our home base near Stockton, Missouri. For locations farther away (or for those who want to install it on their own home or hire their own contractor), we sell siding for self-installation or installation by your own contractor. We are also building a referral list of siding contractors who are willing to install our log siding for you. Please contact us for a referral.
The color of red cedar ranges from red-violet to red-orange when fresh. It soon begins to fade to light yellow-brown and eventually to gray. Although it is very resistant to rot, we recommend applying an exterior grade sealer to the exterior surfaces when it has reached the desired shade of color. This will preserve the beautiful color and prolong its weather resistance to the greatest possible number of years. We suggest you find an exterior grade sealer with UV protection. You can purchase the sealer from us, or locally.
The siding profiles available are: 6" round log siding, 6" flat log siding, and 5" ship lap siding. All of our log siding can be used for interior or exterior uses, and can be used for new construction or re-siding existing homes.
Scroll down for prices or to order samples!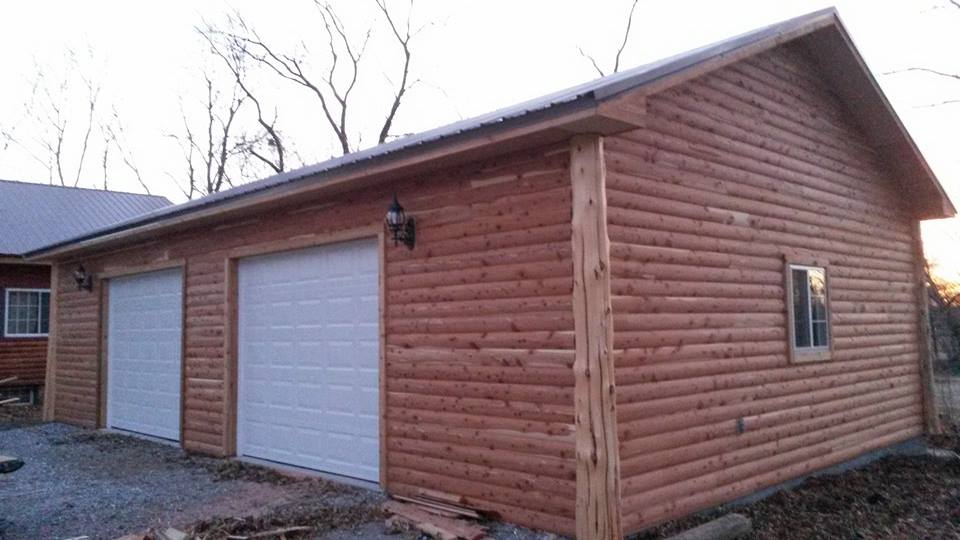 Log siding can be installed on the exterior and/or interior most types of homes. For exterior use, apply a quality house-wrap first, as with other types of siding. Log siding is easy to install: chalk a level line for the bottom course; each course simply laps over the one below. We face-nail the log siding about one inch from the top and bottom at each stud, using 15 gague, 2 1/2" finish nails, galvanized or stainless steel.
We require a deposit of one half of the total amount when the order is placed. The remainder will be due on or before delivery or pick-up. Processing time for log siding will vary from 1 to 10 weeks, depending on raw materials in stock and weather. Unless you pick it up yourself, we will add shipping & handling charges. For shipping and handling costs, please call for an estimate because fuel prices are going up so quickly. We charge per mile, one way, on a flatbed trailer (subject to change if fuel costs go up, minimum $250). The customer is responsible for having a forklift or other means of unloading the 1500 lb bundles of log siding. There will be an additional charge of $50 per hour if our driver must wait while you unload by hand. Very small orders will be shipped via FedEx Ground or other carrier.
We accept payments in cash, credit or debit card, or by check or money order, whether in-person, over the phone, or by mail using our PRINTABLE ORDER FORM! We also accept PayPal and credit card payments for samples of log siding, ordered directly from our website. You can always call with a credit card if you don't want to use PayPal.
Please call for more information!
Little Cedar Log Homes
Alan Smithey
Call or text 417-501-4663
All prices are subject to change without notice.